Wing Chun Instructor Team
At Cambridge Kung Fu we are very fortunate to have experienced Wing Chun from some of the top Wing Chun Masters in the world, including Grandmaster Leung Ting and Grandmaster Keith Kernespect and their Wing Tsun system. We now practice Grandmaster Wan Kam Leung's Practical Wing Chun under Sifu Wan's private student; Master Benno Westra.
Grandmaster Wan Kam Leung originally trained Wing Chun under the late Grandmaster Yip Man, and then the late Grandmaster Wong Shun Leung. Teacher to Bruce Lee and generally regarded as one of the greatest fighters of his generation in the world, in Hong Kong Sifu Wan is known as 'The Master of Masters' due to his incredible fighting skill and his ability to communicate his Wing Chun. In addition to being a master of Wing Chun, is also a master of Chi Kung.
Master Benno Westra studied martial arts since childhood, has been a champion fighter in Tae Kwon Do and Kyokushinkai Karate, and has also been a special forces soldier and worked in security. He is now a professional Martial Artist teaching Wing Chun, Escrima Concepts and Brazilian Jui Jujitsu in The Netherlands. Before discovering his Sifu (Wan Kam Leung), Sifu Benno also completed the Leung Ting Wing Tsun system and the traditional Wong Shun Leung Wing Chun system, as well as training with several other Wing Chun Masters from Hong Kong and mainland China. Sifu Benno is a regular visitor to the UK and conducts seminars for Cambridge Kung Fu.
Our Chief Instructor, Sifu Ross Sargent, originally trained in Leung Ting Wing Chun before becoming Sifu Benno's private student and representative in the UK in 2008.
Our Senior Instructor, Sifu Col Maggs, began training in Leung Ting Wing Chun as a private student of Sifu Ross in 2001. He is now a private student of both Sifu Ross and Sifu Benno, and the head of our Escrima Concepts and Tai Chi Chuan programmes.
We are lucky to have several senior students as part of our Instructor Team:
– Steve Sargent – Instructor
– Ka Fai Leung – Assistant Instructor Level 2
– Minh Huyuh-Quoc – Assistant Instructor level 1
– Kieran Love – Assistant Instructor level 1
– Gábor Balogh – Assistant Instructor level 1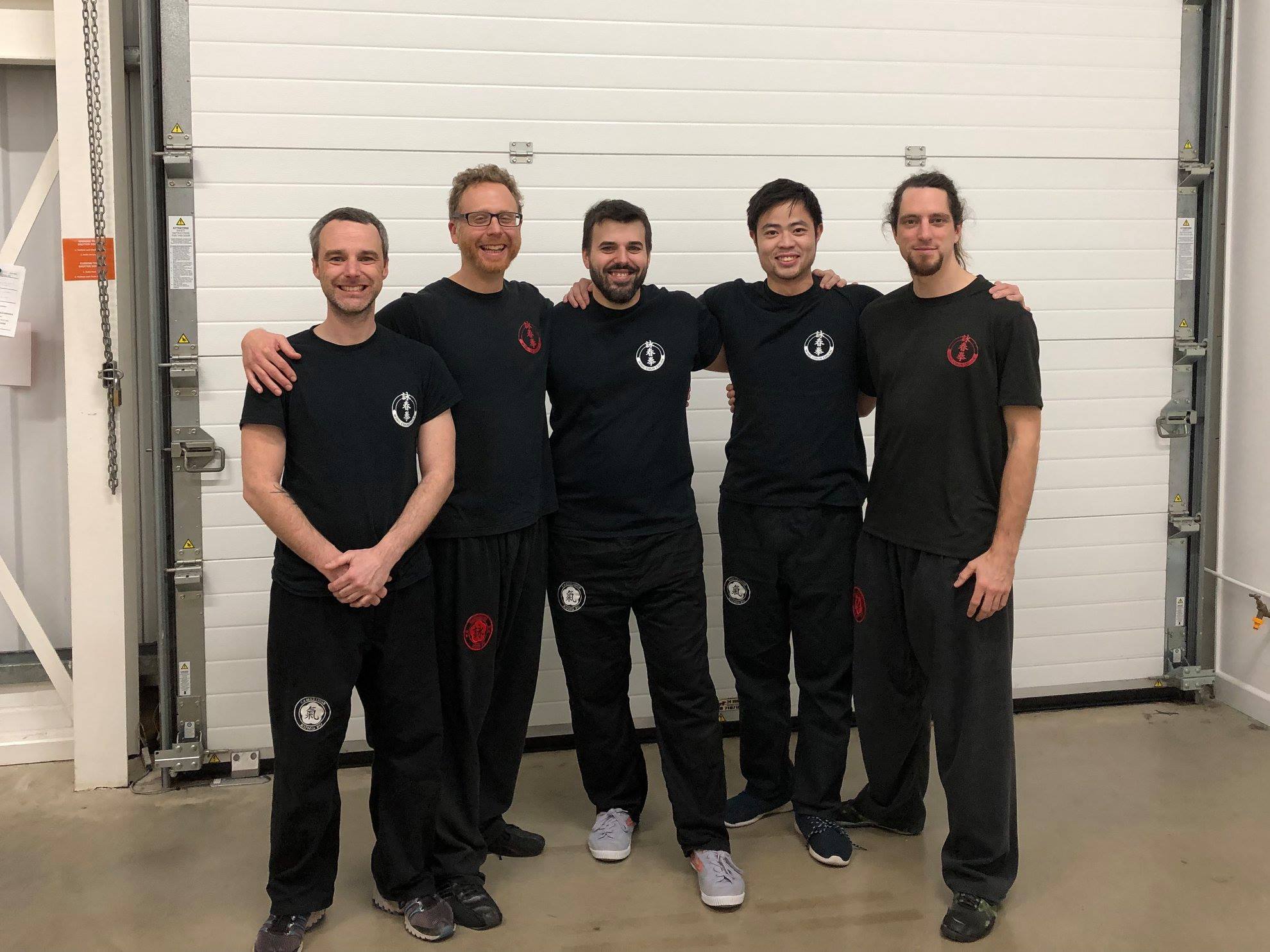 Some of the Cambridge Instructor Team:
from L-R: John, Ross, Kieran, Minh, Col.